Pure and Timeless Essential Oils
Rejuvenate Your Senses
We have over 30 different essential oils that you can choose from to create the perfect blend for your massage oil or your essential oil treatment. We also make our own exclusive blends and feature the blends of some amazing essential oil alchemists! All of our essential oils are pure, organic and therapeutic grade.
Featured Essential Oil Alchemist
Raven Bella Zingaro
Our featured Essential Oil Alchemist is Raven Bella Zingaro and her Uniquely Raven essential oil blends. Raven's magical recipes are unique, completely distinct and they are all hand blended by the ultimate kitchen-witch herself. All of her creations are a mixture of 100% pure essential oils . . . no synthetic, fragrance or carrier oils are ever used.
​
We are featuring Raven's Goddess oils. These were her first creations & are near & dear to her heart. They are a testament to her love of mythology, female power & magic. Raven's Goddess Oils are available for purchase at Stargazers in Bellevue, Tenzing MoMo in the Pike Place Market or on her website.
---
Adonis
Greek God of vitality, youth, virility & vegetation. A blend of Irish Heather, Sandalwood, Bergamot & Bay Essential Oils.
---
Aphrodite
Greek Goddess of love, romance, passion, sexuality, luck, fertility, beauty and pleasure. A blend of Lavender, Sweet Orange, Ylang-Ylang & Chamomile Essential Oils.
---
Athena
Greek Goddess of learning, teaching & careers. A blend of Sweetgrass, Sandalwood, Rose, Bay & Rosemary Essential Oils.
---
 Isis
Egyptian Goddess of magic, harvest, dreams, divination, perspective, faithfulness, love, spirituality & destiny. A blend of Lavender, Tonka Bean, Sweetgrass, Tea Rose, Lotus, Cedar, Sagebrush, Sweet Orange, Heliotrope & Chamomile Essential Oils.
---
Kuan Yin
Chinese/Japanese Goddess of children, kindness, compassion, patience, magic, health & fertility. A blend of Lavender, Palmarosa, Chamomile, Geranium & Tea Rose Essential Oils.
---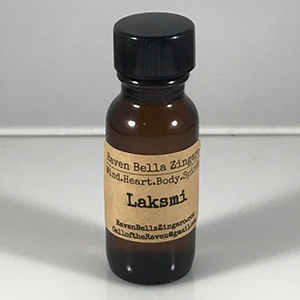 Laksmi
Hindu Goddess of devotion, luck, wealth, relationships, prosperity, love, harvest & autumn. A blend of Heliotrope, Gardenia, Tunisian Frankincense & Tonka Bean Essential Oils.
---
Luna
This is the perfect blend for working with moon energy during all her phases! A hypnotic blend of Hawaiian Pikaki, Fig & Sweetgrass Essential Oils.